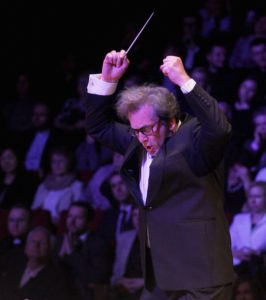 BIOGRAPHY
Piotr Komorowski is a musician of wide interests.  He has been conducting operas and symphonies, performing as a pianist both at chamber concerts as well as accompanied by an orchestra, has also been preparing and leading musical shows.
He has given concerts in almost all European countries , USA, Korea and Japan. He has cooperated with many stars of opera, musicals, and with excellent instrumentalists.

 "I am happy that I can become known in so many fields. I have met magnificent artists and musicians everywhere. I think that watching the clash of various musical worlds and communing with many musical philosophies is one of the most interesting things that has ever happened to me."
Piotr comes from a family of musicians.  He has been performing in public as a pianist since he was 13. With orchestra as a pianist he performed Concertos by Haydn, Beethoven, Mendelssohn, Schumann, Schostakovich, and also Ist Brahms Concerto among others with National Philharmonic in Warsaw,  or Concerto in F by Gershwin with Miami Symphony.
He studied at the Fryderyk Chopin Academy of Music in Warsaw in the piano class studying under professor Regina Smendzianka (1981-86) and later on in the conducting class studying under professor Stanisław Wisłocki (1983-88). He earned diplomas with distinction in both of these fields.
"I was given the opportunity to be taught by excellent teachers-performers and prominent figures in the music scene in Poland… it is a great piece of luck…"
He supplemented his education with numerous seminars in Europe and in the USA. Scholarships of the Ministry of Culture, Yehudi Menuhin Foundation in France and The Kosciuszko Foundation in New York enabled him to continue his development and, among other things, to work with the American pianist Ivan Davis. After a two-year stay at the University of Miami he earned a Master of Music diploma.
Cooperation with singers was one of the most important issues in Piotr's pianist activity. For a period of time Piotr was almost completely dedicated to voice and piano repertoire.
In the years 1989-98 Piotr was the conductor of the Warsaw Chamber Opera.  He produced five premieres there and for the next six consecutive years he gave concerts and opera performances at the Mozart Festival in Warsaw.  He was a guest conductor of many concerts both in Poland and abroad. Cooperated with such soloists as: Regina Smendzianka,  Kaja Danczowska,  Marie-Annick Nicolas,  Jerzy Sulikowski,  Bartłomiej Nizioł,  Arienne Haering, Jerzy Godziszewski,  Paweł Gusnar and Marek Pasieczny.
In 1996 he was offered the position of musical director for a musical show. This was the beginning of cooperation with German impresarios, as a result of which, in the following years he prepared another seven shows and later on also concert programs.
"I remember when, after the musical shows, I was leading performances of Rachmaninov's music, and after concerts of Bartok's and Mozart's music I was conducting marvelous songs from Disney movies .... Very interesting times...."
Piotr conducted many special events like: Concert for 10 pianos organized by F. Chopin Academy od Music or the huge open air concert for 170 performers and dozens of thousands of listeners.
Between 2003 and 2007 Piotr visited Japan three times.  As a conductor of an orchestra and master of ceremonies he appeared in the biggest concert halls of the country.
In 2015 a CD was released where Piotr conducted Polish Radio Orchestra and Grzegorz Małecki was the soloist. The artists recorded 15 songs by Maciej Małecki and Grzegorz Wasowski.